Viticultural Revolution
Château Bélair-Monange in the latest edition of Vigneron Magazine
The latest edition of Vigneron Magazine is dedicated to the environmental "Viticultural Revolution" taking place in the vineyards of Bordeaux, with a focus on the Right Bank. Indeed, we are very encouraged to observe so many properties, of all sizes and from all appellations, placing environmental protection at the top of their priorities.
Château Bélair-Monange was selected to participate in this number. Edouard and Kelley Moueix had the pleasure of receiving the editor in chief, Orianne Nouailhac, and the photographer Leif Carlsson, who captured a beautiful field of mustard planted in a fallow parcel.
The article presents the approach at Bélair-Monange "One doesn't transform such a landscape, one accompanies it, one lives it, one listens to it, feeds it, serves it." Edouard Moueix is quoted, "Our family lives in the château, our children play in the vines, our teams live in the houses on the plateau. This earth has not seen herbicides since we have been responsible for its care. The earth is tilled, the parcels enjoy long fallow periods with cover crops that act as natural fertilizers: mustard, barley, oat, birdsfoot trefoil, faba bean… We don't plan the steep areas so that they may welcome natural reserves of flora and fauna. Our stone walls are preserved, they welcome rabbits whereas bats abound in our quarries."
Discover the entire article here or in kiosks until the end of the summer.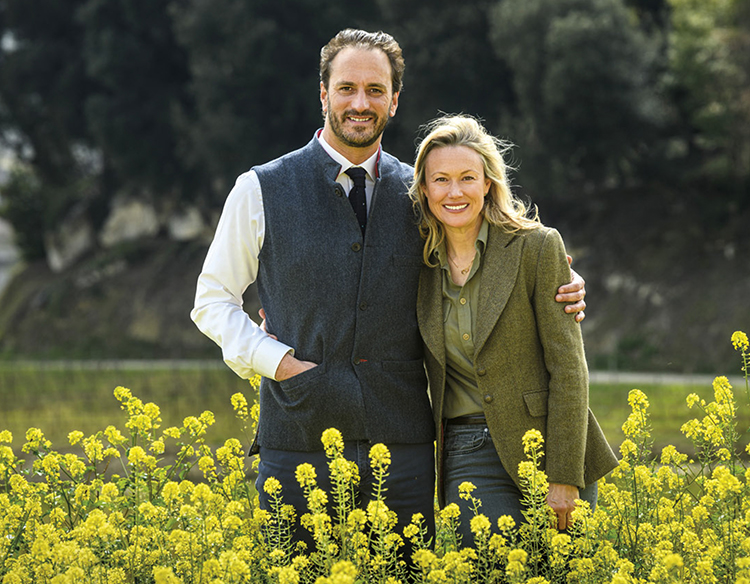 Photos by Leif Carlsson and Benjamin Duvignac.